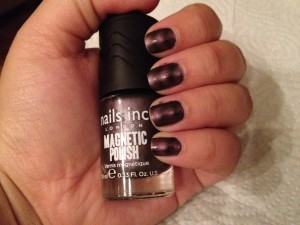 Over the past several months, I have read countless nail blogs. Tons of women out there upload pictures and talk about which polishes are better than others. I seriously saw this on a couple blogs and I had never heard of it. Magnetic Nail Polish. But I really did not research much about it at all. I had only read that most people got it at Sephora. Perfect! I was going to actually be at a mall that would have a Sephora. Man I was stoked…until I saw the price. $16.95 each!! I couldn't believe it. I had never paid that much for nail polish and didn't know if I should pay that. But for the love of nails, I had to.
So I bought the polish, in what i think is kinda a Tim Burtonish purple (Nightmare Before Christmas, maybe?) and I was happy in the end. As soon as I got home I put it on immediately. And. It. Was. Awesome. Even the color before you use the magnet is cooling looking. I think now that I've been looking around at all these different kinds of polishes, you can buy a magnetic polish in a cheaper brand.
But seriously, if you're going to buy one, buy Nails Inc. It's definitely worth the money!